News
Van Go Delivery honored by Expeditors International - Detroit District
November 7th 2016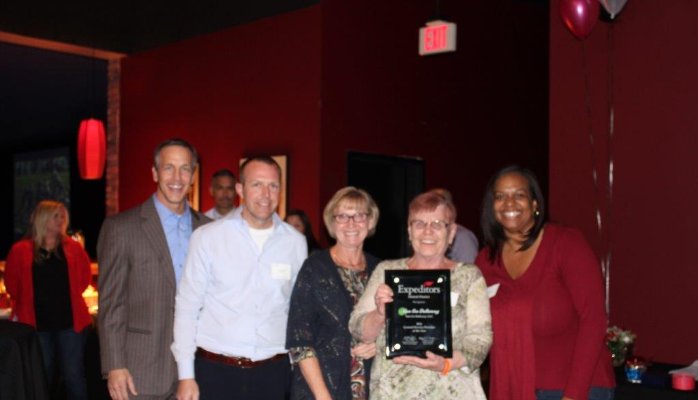 Van Go Delivery named 2016 Ground Service Provider of the Year
Grand Rapids Michigan based Van Go Delivery was honored to receive the Ground Service Provider of the Year award from Expeditors International Detroit District. The company was presented the award at the Detroit Districts annual Service Provider Event that was held Thursday evening at Lucky Strike in Novi Michigan. The measurement standards used by Expeditors International in selecting the Ground Service Provider of the Year are:
Excellence in Security
Excellence in Operations
Excellence in Customer Service
Excellence in Technology
Upon receiving the award for Van Go Delivery, Cathy Veenstra and Denise O'Neill stated that "this award reflects the belief that is held in our mission statement by every employee and driver at our company". "To exceed our customer's expectations in response to their requests for information, pickup and deliveries. We will continually strive to ensure that every aspect of our service is truly... A Work of Art!"
Expeditors International is a global logistics company headquartered in Seattle Washington. As a fortune 500 company they employ over 15,300 trained professionals in a worldwide network of over 331 locations across six continents. Expeditor's 2015 Global Revenue was 6.6 Billion USD. All of us at Van Go Delivery are very proud to receive this honor.
About Van Go Delivery LLC
Van Go Delivery began operations as an expedited delivery company in June, 2007 and is owned by Joe and Denise O'Neill. It has enjoyed over 9 years as a world class provider of expedited delivery in cargo vans, sprinter vans, refrigerated vans and smaller vehicles. The company has authority to operate to and from any state within the contiguous USA and is certified by the Transportation Security Administration as an Indirect Air Carrier. Van Go Delivery is a member of the Air and Expedited Motor Carrier Association and is accredited by the Better Business Bureau. Van Go Delivery continually strives to maintain its commitment to environmentally friendly business practices. For more information, please visit About Us.